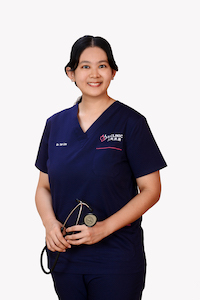 Dr Toh Lizu graduated from AIMST University in 2016. It was in Taiping that she completed her housemanship in 2019. She was a medical officer in the medical department of Hospital Taiping for 3 months before she moved to Klinik Kesihatan Ibu dan Anak, Gerik in Perak from March 2020 until July 2021.
In her role as a medical officer, she helped the orang asli from the nearby area by providing the knowledge and care for mothers and their babies. She advised them on nutrition, hygiene, diet and family planning that included contraception.
In Gerik, she was also in charge of Pusat Pemberian Vaksin (PPV) for 2 months during the vaccination programmed initiated by the government to fight against Covid-19 infection.
In September, 2021, she decided to join H Clinic Group to extend her expertise in women and childbirth.